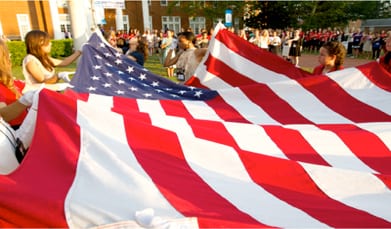 In the spirit of service, not self, the mission of Pasadena Unit 13 of the American Legion Auxiliary is to support The American Legion and to honor the sacrifice of those who serve by enhancing the lives of our veterans, military, and their families in the Pasadena area and surrounding communities. For God and Country, we advocate for veterans, educate our citizens, mentor youth, and promote patriotism, good citizenship, peace and security.
The vision of the American Legion Auxiliary Unit 13 is to support The American Legion while becoming the premier service organization and foundation in Pasadena by providing support for our veterans, our military, and their families by shaping a positive future in an atmosphere of fellowship, patriotism, peace and security.
In fulfillment of our Mission, Pasadena Unit 13 adheres to the following purposes:
To support and advocate for veterans, active military and their families
To foster patriotism and responsible citizenship
To award scholarships and promote quality education and literacy
To provide educational and leadership opportunities that uphold the ideals of freedom and democracy and encourage good citizenship and patriotism in government
To increase our capacity to deliver our Mission by providing meaningful volunteer opportunities within Pasadena and the surrounding communities
To empower our membership to achieve personal fulfillment through "service not self"
Women are eligible for membership in the Auxiliary if they are themselves a veteran who served honorably or if they fall into one of the following categories:
wife
mother
 sister
daughter
granddaughter
great granddaughter
grandmother
great grandmother
of an active duty service member or veteran who served honorably during any of the eligible war eras. Step-relatives in the categories above, such as step-mother, step-sister, step-daughter, are also eligible.
We encourage women of veterans and active service members who have served in our armed forces during the conflicts in Lebanon, Grenada, Panama, Desert Shield, Desert Storm or during the current War on Terror conflict to join our unit.